Ivy Bridge Academy JV Varsity Championship
2021 — Suwanee, GA/US
Public Forum Paradigm List
All Paradigms: Show Hide
Last changed on Sat October 16, 2021 at 1:31 PM EDT
Hello everyone! My name is Aanya Baddela and I'm a varsity debater who has debated for 6 years. Some of the things that will affect my decision are below:
1. Main Points - At the end of the day, your entire debate comes down to your arguments. For this reason, it is extremely important that you have good warranting, and clear links and impacts. If your argument makes no sense or is to far fetched to be viable, then I'm less likely to vote for you in terms of argumentation.
2. Responses - For response speech, there really are only a couple points you need to hit. First, you need to respond to their basic contention (uniqueness, links, and impacts). If you are unable to do this, I consider it completely dropped and thus I start leaning towards the opposing side. Second, if your second speaker you must frontline. Its alright if you just frontline turns but you really need to frontline. Third, try to weigh in responses. For me, the more early that you introduce the weighing debate, the better. The only reason that you might not win if you win the weighing debate is if your arguments are straight up bad, or if your opponents successfully took down your entire argument with clean and unrefuted responses.
3. Summary - Because I'm a second speaker, I don't have many points for this except collapsing your arguments. A lot of times I see debaters going for too many arguments, and thus they lose the round. So if possible, try to collapse down to your strongest argument in summary. Summary is the most important speech in the round because Final Focus can only repeat what Summary does.
4. Final Focus - There are three main parts of the final focus for me: First, you extend your arguments. Second, you either extend the most important offensive points against your opponents arguments, or extend the most important defensive points for your own arguments. If you do both, you will be rewarded with extra speaker points. An extra requirement is, as I mentioned earlier, it is against Public Forum rules to bring things up in Final Focus that were not mentioned in summary. Keep this in mind because I can and will drop anything you say in Final Focus as long as it wasn't in Summary.
5. Paraphrasing - I have no preference when it comes to paraphrasing, however if you misrepresent a card or can't produce evidence, expect your speaker points to go down, or in the worst case scenario, the guilty team will lose the round.
6. Weighing - The weighing mechanisms that I pay the most attention and priority are: 1. Probability, because realistic arguments that will actually happen are very important in a round, and 2. Pre-requisite, because it's a solvency for the opposing case. Also, if you know how, try to weigh your links, because if you do, you will be rewarded with extra speaker points and it will generally help you obtain a win if your opponent doesn't provide a better link weighing.
7. Crossfire - If you decide to bring something up in the crossfire, unless it is later mentioned in speeches, I will not evaluate it. Other than that, don't be overly aggressive or spend too much time on one question, because its important to keep the round moving quickly and positively.
8. Speaker Points - The only thing to know is that I start everyone at 28 speaker points and add and deduct points according to their clear and understandable speaking, well written speeches, not following Public Forum rules, etc.
Last changed on Sat July 10, 2021 at 2:49 PM EDT
I am a tech Judge
Oh Right, before you go on to the rest of my paradigm, don't say "The opponents didn't warrant/weigh/extend/implicate _____" When they clearly did. If this is actually true, I might count it as a response. This isn't the greatest of responses though. Moreover, if the opponents read a link-turn (That means a turn that flips your case, for example if your saying urbanization causes democracy, and they say "no it does the opposite" and explain) then you can't say there's no impact, because the impact is whatever impact YOU read in your case.
GENERAL STUFF:
No spreading in case. That means like 4000 WPM.
Truth = Tech, meaning if you have a garbage case, a garbage response is all that's needed. If something is dropped(that doesn't mean you respond to their response and then say its dropped), I consider it true.
If someone makes a response and you clean, cold, concede the response, don't expect me to evaluate "They didn't extend the warrant/impact/Uniqueness in summary." If a response is dropped this cleanly, you don't need to fully extend the response(I won't drop the response if you don't). A quick extension would be good for my memory though.
PLEASE Extend case. I won't consider your case dropped if you don't extend it, but it will seriously hurt how good your opponent's responses need to be to take down your case.
CROSSFIRE:
Crossfire is seriously undervalued. If the opponents cold concede a point in crossfire, I'll flow it over to your side. You are allowed to bring up new points in grand crossfire that was not in summary, but you may only extend these points in FF if you feel like the defense was ridiculously weak (AND I MEAN RIDICULOUSLY).
If a cross-question in 2nd cross goes unanswered and you bring it up in first summary, its fine. You should use cross to explain arguments or to understand opponents arguments better as well as to find mostly logical flaws between the opponents. I don't really want a massive "who's evidence is better debate" in cross, but I understand that sometimes it is necessary because you have more interaction with the opponents. I prefer logical debates in cross.
FRONTLINING, WEIGHING, AND NEW STUFF:
Frontline in 2nd rebuttal.
You can weigh in first Final Focus, but it would be good if you do it in Summary too. Nothing new at all in 2nd final focus.
You may make new card indicts in first summary, or in 2nd summary (In 2nd summary only if the card doesn't say what the opps said it does or its super sus), but not in FF.
I evaluate framework for myself. If you give me some super fishy framework, I probably won't buy it. Framework is not required.
CARDS:
If you can't pull up a card in a minute 30, the card is dropped and you get lower speaks.
PREPTIME:
Flex prep is fine, don't overdo it.
Solo's get extra prep time (1 minute - 1 minute 30)
SPEAKER POINTS:
Don't talk as if you hate everything.
When I evaluate speaker points, I'm basically a lay judge. That means eye contact, meaningful hand gestures (hint: don't just wave your hands, actually use your hands to explain what your saying), clear tone of voice and emphasis on certain points when needed. Efficiency is also a key point here as well as how good your collapse is.
THEORY:
No theory or Kritiks, but if you run something based on what the opponents do in the debate, (i.e., stealing prep, hacking, etc.) then that would be okay. I don't buy paraphrase theory unless you give me a specific example of paraphrasing that is so out-of-context with the card. Disclosure is fine, but you better have talked to the opp. beforehand and asked them to disclose.
Mahitha Chintala
Hire
8 rounds
None
Jonas Du
Hire
8 rounds
None
Last changed on Sat May 8, 2021 at 8:41 AM EDT
I am a Georgia Tech CS student and debated public forum for the Milton High School Debate Team. Here are the things I would like to emphasize:
-Any speed is fine, but clarity is needed. I cannot judge on what I cannot understand. Please try to refrain from spreading if you can though.
-Make sure to weigh and use off time road maps so I can better comprehend and create my RFD.
-Time yourselves, though I will also keep track of time myself as well, so watch your time and do not go over. Prevent any down time so that we can finish the round on time. That includes calling for a card, which should be minimal.
-Be respectful. This should be self-explanatory.
-I habitually place the rebuttal and summary as the most important speeches so make sure those are solid.
-I have been screwed by judges with personal opinions before, so you can be certain that I will not place any personal bias against you or the opposition. What you show me is what I decide from.
-Preflow before the round.
-Disads, kritiks, and theory are fine by me.
-Speaks: Do not become "insufferable," and you can expect a fair score.
-I mainly give oral feedback rather than written.
Any other questions should be addressed before start time.
Sameer Jivangikar
Hire
8 rounds
None
Viraj Karanjawala
Hire
8 rounds
None
Last changed on Fri October 1, 2021 at 4:36 PM EDT
Hello! My name is Shivani and I am a current Sophomore and Psychology-Premedical major with double minors in Chemistry and Biology at Mercer University! My pronouns are she/her. It's nice to meet you! I have done both Public Forum and a variety of speech events for 4 years at Milton High School. I have also attended a few respectable debate camps such as the National Debate Forum and Emory's Barkley Forum so it's safe to say I do know a bit about debate hehe.
With that being said, I have a few things that you should keep in mind :)
*Speech- I am okay with any speed. As long as you speak clear and with confidence! This is public forum so please do not spread!
*Please make sure you are weighing and really impacting out throughout the round. I firmly believe that every speech is important but your summary and final focus really needs to drive the point home in order for me to consider it!
*I am huge on respecting pronouns so please let me know or correct me if I do not use your preferred pronouns!
*I am okay with off-time road maps but like it says in the title, do not make it too long or I will consider it part of your time!
*Please Please Please be respectful and nice! As Thumper from Alice and Wonderland said, "if you have nothing nice to say, don't say it at all"! I take this very seriously and if you say anything offensive or rude, I will immediately take off speaker points. I like humor but I also like professionalism!
*I will keep track of the time but please keep track of your time as well and be honest!
*Theory, Disads, and Kritiks....not a huge fan of using them personally but I am perfectly fine with them as long as they are reasonable and in boundaries of what you are talking about. Do not go overboard
*I like to go through the round at the end in my oral feed depending on time so if you do not prefer this, let me know! I will be more than happy to write up a more detailed written feedback!
*More than anything, I know how stressful and intense debate can be (trust me, I have gone through my fair share of heels by anxiously pacing up and down the hallways before rounds). So relax, try your best, and give it your all no matter how difficult the round may seem!
*If you have a questions, concerns, cries of woes, etc..., please ask me or let me know before or after the round! No question is dumb but please let me know beforehand!
With that being said, let's close this paradigm and debate! Good Luck!
-SDN
Ronit Rajani
Hire
8 rounds
None
Last changed on Fri October 8, 2021 at 2:19 PM EDT
I recognize that you may need to talk quickly in some situations in order to cover as much information regarding your issue as possible. I'm OK with pace as long as it's structured and you provide cues throughout the speech that I can follow and relate to.
I also realize that you are vehement about your ideas. Respect must be maintained at all times.
I'll be keeping track of every point in your argument, how you defend it, and how you refute your opponent's case. You should be OK as long as you do it convincingly!
Best regards!
Simrit Shawla
Hire
8 rounds
None
Vanshika Singisetti
Hire
8 rounds
None
Rithwak Somepalli
Hire
8 rounds
None
Last changed on Fri December 11, 2020 at 11:39 AM EDT
As a PF Debater, here's my ideology for judging rounds as well as some general preferences:
[1] Framework drives the debate. I like seeing framework debate and I use a well-extended framework as the most important thing to weigh the arguments in a given round. Failure to give me a framework means I revert back to Util CBA.
[2] Extend arguments you want me to vote on. If I vote on it, it has to be in final focus. If it's in final focus, it has to be in summary. I want to see extension of both defense and offense in the summary speech by both teams.
[3] I prefer not to evaluate K's in PF Debate. I will vote on them if I have to, but I generally don't prefer to.
[4] I do not evaluate terminal defense when it comes from spreading on the neg during second constructive.
[5] Please be independent/responsible through the debate. Keep your own speech and prep time, let me know when you start/stop prep, don't go over the time limit, etc.
[6] Edit starting 2021: I am no longer keeping up with resolutions in the PF community and their corresponding arguments.
Last changed on Sun July 11, 2021 at 2:12 PM EDT
*For time purposes, I underlined/bolded the most important things*
Hey y'all!
I am a flow judge, so I focus on the flow and the arguments extended and dropped. However, I do appreciate the big picture because that, overall, clears things up.
Experience
~Lambert HS Sophomore
~PF + XDB Nat Circ Debater (6 years while qualifying for the TOC)
~Local/Nat Circ Speech (Extemp and Impromptu)
~Broke for World School
Please add hanming30024@gmail.com to the email chain. This should be started before the speeches. Please include at least the cases and call the email chain like "MSTOC Lambert High School ES vs. Ivy Bridge Academy KS."
All the stuff after this is negotiable, here are the two things that aren't:
1. No cheating: that means no card clipping, stealing prep, disclosing the wrong aff, lying about your disclosure, etc.
2. Debate is a safe space: I will not tolerate any blatantly offensive arguments. That means no racism, sexism, homophobia, etc. Everybody must stay comfortable during the debate.
Violations of either are grounds for auto-loss and the lowest speaks I can possibly give you
IF YOU HAVE TIME, YOU SHOULD READ THIS (My extended Paradigm)
---
~Speaking: Ok, here is the deal. If you spread it may be somewhat hard to keep up. If you see me drop my writing utensil, it means that you are speaking way too fast. I'll also yell "clear" if you don't notice.
I encourage enthusiasm rather than speaking monotone. Monotone results in you for speaker points being as high as 26. If you don't weigh your impacts, you won't be able to get higher than 28 speaker points and will most likely lose the round. (Unless the other team does the same thing)
<26 means you were offensive/rude
26.1-26.9 means you need improvement and/or probably dropped case
27-27.9 means you probably missed things on the flow and might have made poor strategic decisions in the back half of the round.
YOU CANNOT GET HIGHER THAN A 28 FROM ME IF YOU FORGET TO WEIGH YOUR ARGUMENTS FOR ME.
28-28.9 means you are a good debater, probably can break at the tournament given pairings and other factors; you extend most of the right things in the back half of the round and do decent weighing.
29-29.7 means you extend all or almost all of the right things, explain your arguments/warrants in a concise manner, and, more importantly, you break away from weighing in a vacuum to comparative weighing.
29.8-30 are rarely given out. You made a smart strategic move and comparatively weighed your arguments, collapsed on the right things, and provided a coherent comparative analysis/narrative that made my decision easy.
~Rebuttal: 2nd rebuttal is obliged to frontline all of the opponent's responses. If you don't do so, then I will consider it as DROP. Also, no independent offense in 2nd rebuttal.
~Summary: Both positions must extend both offense and defense for the summary. Again, if you fail to extend defense, it's a clear ballot for the opponents as their offense still stands.
~Final Focus: Focus less on the flow, preferably focus on the big picture.
~Weighing: Please weigh impacts!! It will increase your chances of winning. I care far less about buzzwords than teams making a comparison between link/impact stories. Also, try to do meta-weighing because it will give you a higher speaks (ASK me if you don't know what it means). Try to start weighing in rebuttal.
~Importance of Weighing
- Advance Techniques (Amplifier, Short Circuit, etc.)>Pre-Req
- Pre-Req>Timeframe
- Timefram>Prob
- Prob>Mag
*IMPORTANT: Unless if you can prove me that your impact weighing is better than theirs or you do comparative weighing, the order doesn't matter.*
~Crossfire: BE Calm and not so abusive although I do like clash and poking holes into the other team's arguments. I will be paying attention, but it won't affect my decision as much. However, I will not be flowing it.
~Paraphrasing: There is much more stuff in my extended paradigm. I'll try to keep it short though.
- Please try to read CUT CARDS. I will not vote you down if you paraphrase, but I will be unhappy. (This also includes your rebuttal speech).
~Evidence. Any evidence violation outlined in section 7.2 of the HS Unified Manual is grounds for me to give you a loss and nuke your speaker points, based on section 7.4. Here is a list of common evidentiary practices in PF that will result in this outcome
However, I will drop you for the following reasons
Sending a link to a piece of evidence rather than a cut card in an email chain (and, in a related vein, telling your opponent to "ctrl-f" anything in a PDF or a website).

Not including a citation when you send your opponent a random piece of evidence in an email chain (accidents are fine, but if you're just sending a chunk of text without a citation and you don't correct it if asked, no). A citation includes everything in section 7.1.C of the rules.

Taking more than 3 minutes to produce a piece of evidence. Failure to produce a card will not result in me "removing" a card from the flow. You will lose the round, because you have used "non-existent evidence."
-----------------------------------------------------------------------------
Extra Info:
- In my opinion, the summary is by far the most important speech in a debate
- I like indicts, so do it if you can. lol
- Sticky defense is bad (boohoo)
- I love DAs, every DA you read, I'll bump your speaks 0.1. (No DA in 2nd rebuttal tho)
- Turns are useless with at least a link and an impact. Turns with a uniqueness make it a lot better. If you do this, then you are a good debater.
- In order for me to buy any piece of offense, you must warrant, implicate, weigh, and frontline. If you don't do any one of those requirements, then I won't consider the in my final RFD.
- Creative arguments I like – stupid ones I don't. If you find a quality card that makes a unique argument, I'll be a fan. If you're stretching together a couple of words from 4 different blogs to make a unique argument, I will not be a fan.
- Read content/trigger warnings before reading something that could be potentially uncomfortable for opponents, and PLEASE CHANGE YOUR CASE IF YOUR OPPONENTS DON'T FEEL COMFORTABLE WITH THOSE CASES. This also applies to all the other speeches (rebuttal, summary, final focus). If you don't comply, then I will dock your speaks + auto drop you.
- Idk about theory arguments, triks, kritiks, etc, but if it is in the round, then it must be expressed very well throughout the debate. However, I HATE Friv Theory, so don't run it. If one team brings up a theory argument in the round, then I will automatically look to that first (I don't care how wack it is). If the opponent fails to respond to the theory argument that is expressed, then I have to give the dubs to the team that ran the theory. However, if I believe the theory debate is a wash, then I'll just be a normal tech judge who looks down the flow and see what arguments are the cleanest.
- I really hate it when debaters classify judges whether they are truth or tech. Anyways, I am Tech>Truth, but I'm not 100% sure of it.
- If you see me nodding my head, it doesn't mean that you made a good argument. I just do it because I feel like it. Don't take it into account.
- Making any Math, Food, Johnny Harris, Kurzgesagt, or Mark Rober references will give you +0.5 speaks.
- In all, be independent/responsible through the debate. I will be keeping time, but I also expect you to keep your own speech and prep time. Just let me know when you start/stop prep and don't go over the time limit, etc. I dislike it when debaters try to steal prep. I trust all of you debaters and good luck in your round!
- IDC about post rounding. If you think you got judge screwed, then tell me.
Good Luck Debaters!
*P.S. At the end of each round, I'll put a random meme in the RFD (idk why I do this). Below is one of many if I am your judge.*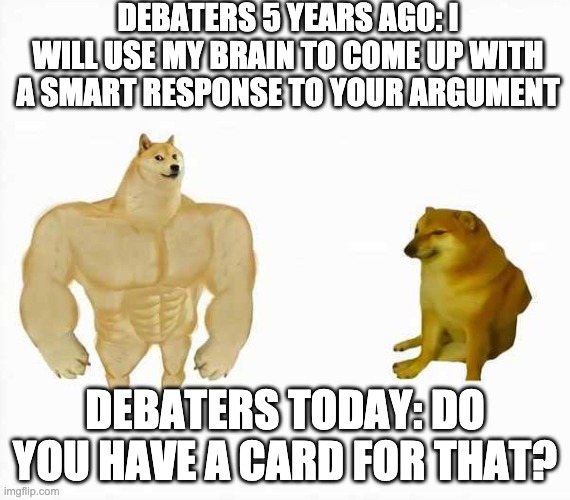 Last changed on Sat October 2, 2021 at 4:16 PM EDT
I am a current PF high school debater. I judge tech (most of the time) and focus on the big picture of the issue.
Define the status quo, do comparative weighting, and make sure warrants are thorough.
Here is how to win my ballot:
1. Warranting: quality>quantity. I can only vote on arguments I understand, so explain exactly how the links lead to the impacts. Cards and evidence are important, but don't get caught up in every detail, use them to support your logically sound arguments. I want to hear your narrative of the problem.
2. Collapsing: Be strategic- by the second half of the round, the debate needs to be narrowed. Then, center your arguments on the clashing points.
3. Weighing: I think this is the most important factor in the round, and easiest mechanism for me to vote on. Impacts have to be quantifiable, and backed with quality evidence. Provide metrics and compare: give me succinct reasons why I should prefer your argument. State how your framework will provide a better solution, or analyze how strong the effects of your resolution will be. Weigh impacts AND uniqueness. I value probability highly.
4. Frontlining: Obligated in 2nd rebuttal, but I encourage you to always frontline. It makes the debate more in-depth, and creates more clash (opportunities for comparison and interaction).
Advice:
-Summary: 3 things- Explain the cases you are going for while responding at the same time, comparative weighing, extend responses so that they can be used in the Final Focus.
-FF: clear voters, write the ballot for me.
-Organize your speeches, signpost clearly, be enthusiastic about what you are arguing for, and have fun! :)
Good luck!!