Yale University Invitational 2021
2021 — NSDA Campus, US
Parliamentary Debate Paradigm List
All Paradigms: Show Hide
Last changed on Sun September 19, 2021 at 5:04 AM PST
Pronouns: He/Him/His
Background: Competed all four years in high school for Claremont HS, Claremont CA. While in high school, my main events were Parliamentary Debate and Extemporaneous Speaking, although I occasionally did Worlds Schools, Congress, and Big Questions. I was a two-time NPDL TOC Qualifier (ending 6th and 5th overall in terms of points), a four-time state qualifier in IX, and a four-time national qualifier in IX (semifinalist at Nats 2020). I currently debate APDA and BP Debate for Yale University through the YDA. Got any questions? Ask me before the round or really whenever
Despite my experience with debate, I like to consider myself a "lay" judge. While this is explained more in the following sections, what this means is that I subscribe to the philosophy that debate is about learning, listening to others, and using logic above all else. I don't believe that debate is a "game" that should be won through any means and that your job as debaters is to use whatever means to carve a clear path towards the ballot. Thus, I dislike the use of theory in almost all forms of debate unless the theory is warranted (i.e., as a check against problematic or abusive argumentation) (this is especially the case in Parliamentary Debate). That being said, I'm more flexible with theory in LD and CX, although I prefer case/traditional debate in those as well (See LD)
As a brief note: I've judged a lot more this year than my judge record states (most of the tournaments I've judged at have been on discord and hence, aren't recorded on here) so if that's something that matters to you, I hope that helps you make an informed decision (for NPDL-TOC) :)
tl;dr
Please avoid speed and jargon, and in the rebuttal speeches, focus on fewer arguments (collapse) and develop them rather than trying to win everything. Connect your arguments to the resolution (links!), and where appropriate, to the standard for judging the round, and definitions of key terms. Unreceptive to kritiks for the most part unless they are being well executed and perhaps, more importantly, warranted in the round.
Me when you run frivolous, blippy, or just in general unwarranted theory
Accessibility/ Inclusivity Statements:
If you feel comfortable stating your preferred pronouns, I'd encourage doing so! This helps normalize the use of preferred pronouns and helps us prevent misgendering anyone! On that note, purposefully misgendering someone IS grounds in my opinion for dropping you. The debate is meant to be inclusive to promote interesting discussion, so please aim to always create an inclusive environment (or just be a good human being in general). The same principle goes for harassment.
Competitiveness is great until it isn't. I was a passionate speaker, but there's a distinction between passionate and rude. Rude and aggressive behavior will tank your speaks.
Please be wary when constructing statements that are problematic. In addition, please list content warnings before any speech to prevent triggering someone in the round.
If there are any accommodations you'd like me to make, I'd be happy to do so given that the tournament allows me to! In that same vein, I will always disclose and aim to give as much feedback as possible. If I'm unable to do so, given policies or time constraints, I'll always leave comments/RFDs in the comments as well as individual feedback. Please reach out if you have any questions!
General Debate
Theoretical Paradigm:
Debate is not a game. It is not an activity you do to win trophies or get as many first-place finishes as possible. It's something that you should do to learn; about yourself, your beliefs, the world, and about others.
I believe that the principle of "Tabula Rasa" is impossible in reality,. We all have ideologies and beliefs that we follow or practice in our everyday lives (me writing this paradigm is an example of that). That being said, I aspire to be as Tabula Rasa as possible and always make decisions on the flow. While on the topic of the flow, I will always try to protect the flow in the rebuttal speeches, but please call the point of order just in case I missed something.
Parliamentary Debate (Most of this also applies to other debates)
Argumentation:
Please use solid logic when constructing arguments. Use clear warrants and utilize clever argumentation to construct clear lines of logic that make it easy to verify the substance of any specific contention. My favorite aspect of Parli was always coming up with interesting contentions (especially on the negation side), so props to you if you can come up with some unique ideas. As for the structure of the argument, you do you. Being adaptable is a big part of this debate, so do whatever is necessary to make your case as tight as possible.
Links are key. Tell me how and why whatever contention you just gave me links back to your plan/cp/case/position in general. Link chains are incredibly important and I won't create the link chain for you. Also keep in mind that the link should fit the impact. If you REALLY want to sell me on that extinction impact, you'll have to really sell me on that link story.
Organization:
Please signpost, please read taglines more slowly, please read plan/cp either twice or more slowly than the rest of your speech, give a roadmap. When constructing arguments, please clearly map out whatever structure you're using. When refuting, use on-case/off-case terminology to make my life (and flow) a bit easier. That's it, not much to it. I will try to avoid non-verbal feedback, but if you see me look confused while shuffling papers, try to get me back on track ASAP.
Trichotomy:
It exists. I'm not the type of debater who will make you debate policy for all given resolutions. Use your judgment as to what you believe the "flavor" of the resolution is. Please don't get into debates over trichotomy. They're exceedingly boring and quite painful.
Framework:
Provide a WM or V/VC. Tie this back to each of your contentions/arguments. Give definitions that are fair and set parameters for the round in general.
Speed:
I can handle speed. That being said, please don't spread to the point where I can't write down your argumentation. I'll call out speed if you're going too fast twice, after that, I'm just going to write down whatever I can catch. What this means is that if I miss something you say, that's your own fault, not mine.
If you use speed to outspread someone in a round, believe me when I say that this will tank your speaker scores. While this won't make you lose the round, if you're on the edge of breaking, I can guarantee that you'll regret missing out on those couple of points. Furthermore, I am especially receptive to any speed theory that the other team might run, so please keep that in mind.
If you feel like you're being outspread by someone, please call out "speed". If they adjust, fantastic, if not, the above applies.
Speaker Scores:
They start at 28 and go either up or down from there. Strong argumentation and strong speaking will warrant higher speaker scores and poorer argumentation and weaker speaking will warrant lower speaker scores. I use a blend of both because I feel that debate definitely has a "speech" component to it and to ignore that is to ignore a massive part of why we do this event in general. That being said, argumentation also plays a key role!
Counterplans and DisAds:
Love them. Use them. Please make unique links between the Disad and the case however. Generic disads are boring and quite frankly show a lack of creativity. Please come up with clever stuff :)
Theory:
If theory is warranted, I have no issue listening to a theory-based debate. What this means is that if you believe that you are being excluded from the round, have no room to debate the resolution with, or if there are legitimate ties between the aff's case and some theoretical framework, I'm down to hear some theory, as long as it's not frivolous theory.
What this means is that I hate theory that is run simply for the reason that you want to. I've seen MANY a round where theory is used to exclude debaters who don't have experience with it and other times when it's been used simply because it's a convenient way to "get to the ballot". You're not in debate to simply win trophies (or I hope you're not). You're in debate to learn and understand the world better, to develop public speaking skills, etc. Using frivolous theory goes against that pedagogical standpoint of mine. While I won't drop you for using theory, you do HAVE to convince me that the theory is warranted, which if it's not... well, ya know how that's gonna go.
Please, for the love of all things good in life, don't run random Ks because of a "why not" mentality. I was never a K debater and am not familiar with the literature, so if you decide to run a K, please explain the logic clearly.
Note: If the perm makes sense from an aff context, that's one theoretical argument I will always listen to (despite the fact that they usually result in incredibly frustrating debates).
As for the voters that I am most receptive towards, fairness and education are the main ones. Please explicitly give the links between the standards/violations and the impacts of said violation. I refuse to intervene as much as I possibly can and will NOT make those links for you. Same goes for the impacts themselves.
It goes without saying, but if theory is the "a priori" issue that both teams agree upon, I will be tech over truth and the theoretical arguments will become the main issue in the debate.
Weighing/Decision:
I was the first speaker during my time doing HS Parli, so I love the rebuttal speeches. That being said, please make sure to carefully collapse onto the most impactful/substantive arguments in that given round. Tell me explicitly WHY something should be the number one issue and back it up with logic. Give the impacts RELATIVE to either the SQ and/or the negation's case (or CP). Impacts don't exist in a vacuum and once again, I will not make those links/comparative analyses for you.
In the event that the round really does end up being a complete coin toss (this applies to Policy/Plan Motion Rounds only), presumption will flow neg unless the negation has a CP, in which case presumption flows aff.
General Statements:
Don't be rude or exclusive. Have fun, enjoy the debate, give POIs, ya know, just do your thing
Public Forum Debate
All of the above statements apply. Please try to avoid spreading your evidence (in fact, please slow down when reading the tagline/citation of the evidence card as well as during the most important parts of said citation).
Lincoln-Douglas Debate
I prefer case debate to theory debates, but I frankly don't care what kind of debate you want to have.
For traditional debate, make sure to link V/VC to the case. I'm not going to do the link work for you. Make sure to termanalize all arguments and give me specific impacts (this applies to all the other debates as well, I.E., "the economy" is not an impact, but unemployment increasing/decreasing and all the associated impacts are). When speaking evidence, please slow down (I flow on paper and while I can write fast, I'd like to not miss anything), especially if the evidence is important. On the topic of evidence, make sure that the evidence is being linked to the case, that's another linkage that I won't make for you (i.e., speaking evidence with no context as to why this evidence is so important to your case and the debate is basically wasting time, so don't do that).
On theory debate: again, do as you want and I'll evaluate it. That being said, while I understand and can evaluate theory, I'm not really familiar with a lot of the literature around theory. so if you want me to evaluate those arguments, please explain the literature and how it linked into the argument your making (this especially applies with Ks; while I understand the formatting and idea behind a K, I'm not familiar with the lit at all, so please explain each component). On speed, a good rule of thumb is that the crazier the argument, the slower you should go. I'll call speed if I can't write down whatever you're saying.
Katya Azzam
Loretto Academy
None
Ravi Bandaru
Irvington High School
None
Last changed on Sat September 18, 2021 at 8:06 AM EST
I am a lay judge. I have limited experience, but I've received training, and consider myself generally knowledgeable about current events. I also did policy debate in high school, and now work as a communications trainer. I appreciate good organization, so I can follow the flow of the debate.
Last changed on Sat September 18, 2021 at 6:00 AM EST
I am a parent judge with two years experience. Please speak at a normal pace. It is helpful when warranting is supported with evidence. I find signposting to be helpful as well. Weighing is important in helping me make my decision for who won the round.
Emily Castelli
Berkeley High School
None
Last changed on Thu September 12, 2019 at 8:17 AM EST
About me- I competed mostly in LD and occasionally policy in Texas from 2015-2019. Now I go to Yale, and am on the debate team here. I competed in TFA, NSDA, and TOC circuits, mostly ran Ks. As a judge I don't have many preferences. Run what you want, I'll just be more familiar with some literature than others.
Add me to the email chain: cameron.chacon@yale.edu
Misc- I don't care about speed, I'll say clear if needed. Fine with flex prep. Compiling the doc uses prep time, prep stops when you hit send. Have fun and be chill with each other, unnecessary aggression is annoying. Respect people's pronouns if they tell you, don't assume pronouns if they don't.
Ks- Cool. Run whatever, I'm most familiar with Deleuze, Foucault, some Queer theory, set col, and fem stuff. I'm fine with whatever alt you run, just make it as clear as possible what doing the alt actually looks like. Less familiar with afro-pess, make sure you explain warrants well. Make the ROB/ROJ extremely clear, and tell me how it functions against other layers of the debate (t/theory especially).
Performance debate- Love this. Again make sure the ROB/ROJ is clear, weigh it against other things in round. Being non-t is cool, justify it if your opponent is running t.
Note: Please don't just run T/theory and a ton of off case against a K/performance aff. K vs K debates are my favorite, but at minimum actually engage with the aff substantively.
Phil- Great! Don't assume I know your authors well, be thorough. I saw the least of this when I was a competitor but its a good way to go.
Plans/Disads/CPs- Fine with me, though not what I personally enjoy. Please weigh, it makes my life a lot easier. I'm somewhat skeptical of any crazy big stick impacts (nuke war, extinction) but I'll vote on whatever ends up on the flow. I don't love a ton of off case, more than five is probably too many for you to warrant any of them well.
T/Theory- Run it if you need to. I don't like frivolous theory, especially as a strategy against Ks/performance. I'll vote for disclosure theory. I default T>theory>substance, but I think a good K debater can go for ROB>t/theory and I'm open to that. I default no RVIs, but if your opponent is running mostly theory or they are likely to collapse to it and thats where most of the debate is happening then I'll buy the RVI. Please, please put shells in a doc. At minimum if your extemping write out an interp/counter interp. I find theory debates usually are super blippy and unwarranted, but if you do this well I'll be impressed.
Tricks- Probably what I'm worst at judging. I'll vote for it theoretically, but I'm not a fan, especially if your opponent also isn't a tricks debater/familiar with tricks debate. Assume I'm not familiar with anything here.
Last changed on Fri October 29, 2021 at 7:19 AM EST
Content and courtesy are the most important factors to me. I like to be presented with both the forest and the trees by the end of a debate. Focusing on details of your case, on individual points of clash and supporting your case is very important, as is not getting lost in the weeds and remembering by the end to tie everything up to a big picture view.
Please do argue forcefully and passionately - on both sides of the motion at hand. I find it very off-putting when teams try to win on the margins rather than engage with the substance of the motion/topic. So I really do not like overly narrow definitions and overly aggressive points of order where it's obvious you're just trying to throw the other team off and/or win on technicalities.
So with me you'll do well if you engage in detail and big picture with the actual substance of the motion and thoughtfully and respectfully clash with your opponents. This to me best shows engagement with and consideration to your opponents, me and the contest of debate in general.
Last changed on Fri September 17, 2021 at 6:15 PM EST
I am an APDA debater who comes from a CT parli background. A few important notes
1) On equity. If you are going to make a clearly triggering argument (graphic descriptions of violence, sexual assault, suicide) please at the top of your speech say the type of argument you are planning on making, and give the opponents a time to opt out (online this might have to be in the chat), should a team opt out I have found that there is nearly always a way to make the argument without the triggering material, this usually looks like tweaking the impacting or finding an alternative way to prove the same claim. Just realize that the motion would not have been set if it could only be won with triggering arguments. If you have any questions at all regarding best practices for how to do an opt out, please feel free to ask me! Second, if you are going to make arguments about specific groups of people, act as if a member of that group is watching the round; sweeping generalizations, especially about vulnerable communities, while perhaps not malintentioned, can hurt people, as well as lack the nuance and rigor that we should strive for in this activity.
2) When crediting arguments and adjudicating clash I will always defer to the logic backing the statement, I do not give significant value to quotes from sources. Obviously specific knowledge you have on a topic is more than welcome (ie. France occupied the Ruhr region of Germany in 1923, Turkey is a member of NATO, the UK uses a Westminster political system, etc), and if used well in round, will be rewarded. Although I will keep an open mind to different viewpoints and arguments, please do not make me adjudicate arguments that are factually untrue.
3) On weighing and winning the round. I have judged rounds where one team wins far more arguments, but loses the round. This is because after I decide which side won each argument, I will then look into the weighing and impacting that each team did for me. Please impact and weigh your arguments, especially in rebuttal speeches, but really anywhere, I have not rarely seen teams weigh too much. If and only if there is no weighing or impacting from either team that has survived refutation, I will look for a combination of the least interventionist and most reasonable weighing, which may or may not be to your benefit. Tell me how to judge and weigh the round, and warrant it well, and you will not only win the debate, you will speak high.
4) On speed. I do not come from PF or Policy, although there is a fair amount of speed in my activity (220/230 WPM maximum). I will do my best to flow, but if I do not follow or write down your argument as a result that is on the speaker. Should people be too fast I may say 'clear', should I do this you do not need to stop, it is merely a signal that I cannot fully understand what you are saying. That being said, there are some situations where speaking fast is not merely unstrategic, but locks teams out of the round. If you notice that the team you are debating is newer, and not used to speed, I will award more speaker points if you make an effort to help your opponents engage with your arguments, and in egregious cases penalize speaks (but in the vast majority of these cases I will likely naturally give lower because there was less opposition to your arguments).
If you would like additional feedback after the round feel free to reach me (facebook messenger is the easiest!), or ask me before I leave at the end of the round and we can work something out.
Aside from that, I will judge the debate how you present it to me, do your best, and have a fun round!
Last changed on Fri September 17, 2021 at 3:10 AM EST
Basic do's and don't:
DO: sign post, speak clearly, weigh
DON'T: speed read (spread), run theory other than abusive definitions calls,
Tasha Dambacher
Hire
8 rounds
None
Last changed on Sat September 18, 2021 at 6:13 AM EST
Yo! My name is Yannick Davidson (he/him) and I am a junior APDA debater at Williams College. In High School I did 1 year of LD, 2 Years of Policy, Sporadic PF, and 4 years of some extraneous debate related events such as Model UN and Extemp. For the past three years I have competed and judged in American Parli Debate at the College level.
Parli Paradigm
Flow — Partly due to my background, I'm a very flow heavy judge, I really appreciate debaters who can make my job on the flow as easy as possible by delivering clean and well structured responses on the flow. I'm relatively tab and tech > truth in the vast majority of cases, but I won't vote for anything that is obviously unethical — it probably doesn't need to be said but I won't vote for any arguments that are explicitly racist/homophobic/sexist etc.
Behavior — I would appreciate that people try to be friendly with each other in round. I realize debates get heated at times, but I definitely try to reward debaters who have both charitable characterizations of the argumentation of their opponents and treat everyone in the round with respect. It's not usually a decisive factor in who wins the round, but it certainly will help your speaks to be chill.
Speech Stuff:
Speed — I can follow speeds up to circuit Policy speed, and I personally quite like debates that are very quick if clearly both teams can follow the speed. I think that spreading for the purpose of keeping another team out of the round is a droppable offense. I would ideally like for a debater seeking to spread to mention that before their speech and check to make sure that both the opposing team and the panel are fine with speed. If it is the case that they aren't, and the speaker still chooses to spread, I am willing to drop the team depending on how egregious it is.
Signposting -- I always appreciate clear signposting, especially in quicker rounds. I will likely be able to flow/follow the round without it, but it makes my life significantly easier.
POIs — I don't expect anyone to take a minimum number of POIs, I think that it reflects positively on a speaker to take 1 or 2, but it's not a necessity for me.
POOs — I will modestly protect the flow. I can't guarantee if I will be perfect at protecting it. If you think something is new, please don't hesitate to call it.
Tag-teaming — Not a huge fan, because it's often a bit disrespectful to the partner being spoken for, e.g. it seems like this person is often cut off from making an argument that they wanted to say. However, if a speaker is genuinely stumped by a POI, I don't mind a partner tag teaming for expediency.
Argument Stuff:
Evidence — Evidence can be a really useful way to illustrate a point, but evidence is by no means sufficient to win a point, nor is lack of evidence necessarily a reason why a point is untrue. Arguments that are logically constructed and incorporate deep warranting structures always matter more than shoddy evidence in my book.
Weighing — I prefer that weighing and crystallization is done explicitly, the earlier the better. Comparative weighing is incredibly important in helping me adjudicate the strength of various weighing mechanisms, I encourage debaters to explicitly try to cross weigh and mechanize their weighing. I defer first to the weighing mechanisms that are most well established in the round, absent an explicit mechanism, I next defer to the implicit weighing structure of speeches — e.g. things like argument prioritization and mutually agreed upon conceptions of the termination/weighing of impacts to make my decision.
Theory — I debated a substantial amount of theory in LD and Policy, so I am relatively familiar and comfortable with the general structure and adjudication of theory debates. That being said, I am less familiar with the specific contour of theory in Parli. Debaters seeking to run theory in front of me will probably find it helpful to run non-generic argumentation and provide deep warrants for their theory. I am totally comfortable adjudicating Theory rounds and positions, so don't feel discouraged running it in front of me!
CP/Disad Debate: Yep, I love them. Some of my favorite debates. I think the critical part of running a successful DA in front of me is avoiding incredibly generic link work, the more specific to aff advocacy the better.
Kritiks — I love Ks. In Policy I was a K only debater. I am most familiar with the following K lit areas: Afropess, Black Nihilism, Queer Rage, and Setcol. That said I will not penalize anyone for not running a K, and running a K in front of me certainly won't guarantee your victory. I am not a fan of generic links, I would really stress the importance of linking to specific advantages/pieces of analysis along with you overall link defense. There's some resolutions that might have strong links into the K, but aff strategies can often skirt these links, which I think harms a lot of the link strength that neg teams go for. I think that there is often an underinvestment in the impact section in K debates and too much time spent in the framework, I appreciate significant impact level work from both sides.
Topicality — I don't mind T, run it if you want. I'm more inclined to believe that T is about competing interpretations, but I'm willing to listen to arguments about why I should prefer reasonableness or some other standard. T as an RVI is usually a non starter unless that neg team is super egregious.
John Davis
Schreiber
None
Last changed on Sat October 3, 2020 at 4:51 AM EST
I have been a speech and debate coach for 3 years.
Please speak clearly and not too quickly.
Make your contentions clear and organized with supporting evidence.
Ensure that you respond to the opposing side's points/contentions. Do so in a professional manner-do not become overly defensive or argumentative.
Kiri Fitzpatrick
Hackley School
None
Last changed on Sun September 9, 2018 at 12:21 PM EST
Stephen Fitzpatrick
Director of Debate, Hackley School
As a former trial attorney, I am looking for clear, persuasive, and intelligible speakers - speed-reading from your computer screen will not impress me. If I can't understand what you are saying, either because of the speed with which you are saying it or due to a lack of explanation and explicit connection to the resolution, it will be far less likely to impact the round. Beware of reading cases you either did not prepare or do not understand. That will be especially evident during cross-fire. I will flow, but only to the extent I can follow what you are saying.
As for evidence, spitting cards at me without tying them explicitly to your arguments and the overall resolution will also have a limited effect. I pay close attention to cross-fire - ask good questions, be polite, listen to your opponent's responses, and respond accordingly. I reward debaters who have a solid understanding of the factual underpinnings of the case as well as basic knowledge of current events, historical precedents, and specific details directly related to your arguments. If one of your contentions requires specialized scientific, legal, or economic principles, make sure you can explain them to clear up misunderstandings and clarify factual disputes.
I will be open to persuasive, integrated cases, and critical impacts. Make sure to summarize the round during final focus. I am not an overly technical judge, so I will take every speech into consideration and even consider arguments in cross-fire to be part the round when making my decision. Speaker scores will range based on a variety of factors, but speaking style, demeanor, and argumentation will all factor in.
Catherine Flynn
Westfield/Watkinson
8 rounds
None
Last changed on Sat September 18, 2021 at 7:55 AM EST
Hello! My name is Jyothi and my pronouns are he/him. I like to see lots of reasoning and impacts in addition to your evidence. Do not just provide the evidence and assume that everyone understands the reasoning! Also, be sure to explain to why your world wins OVER THE OPP world if you are PROP as you have the burden of proof. Make sure that you are providing lots of clash to the other team to create a better and more educational debate. Try not to make abusive definitions or frameworks as it doesn't make the debate fun or educational. Please do not spread as East Coast Debating does not usually have this. Above all, have fun and be respectful.
Last changed on Wed April 12, 2017 at 9:44 AM EST
national circuit PF for 4 years. Mostly northeast so I follow northeast conventions (you don't need to frontline in second rebuttal, etc). Defense should preferably be extended through summary.
I can flow fast, but I really don't want to. If you speak quickly I'll get mad and stop flowing seriously. You will most certainly be worse off if you spread. If you literally read LD or Policy style I may count it against you in terms of speaking points- you should have done a different activity.
Speaker points will reflect your decorum in the round as well as your technical/rhetorical ability. If you're rude or unpleasant to judge you will lose speaker points. You will lose more speaker points if you're rude to the other debaters but you get no points for being rude to me.
As long as there's time I'll give oral RFD with disclosure and answer any questions. I'll also fill out the ballot with key trigger points. If you have a question please ask but phrase it in a way that assures me you're not trying to get me to change my decision (I won't.)
Be lighthearted. If that means humor by all means go for it. If all it means is that you project confidence without sternness, that's also great. Please make the round fun for me to judge.
Ekaterina Ginzburg
BOW Debate
8 rounds
None
Last changed on Wed April 14, 2021 at 10:19 AM EST
Email for chain/questions: jonahlg20@gmail.com - if we can skip GCX and start the round asap, +0.5 to everyone. I have almost never seen anything important happen in GCX, and it probably shouldnt exist
i am flow. I will vote on the flow. I did HS PF and now college parli. run w/e you want but just don't be a dick. I have some experience with theory/Ks, but prob not enough for you to feel comfortable running them in front of me unless they are pretty intuitive (disclo, CWs, etc).
ANALYTICS ARE GOOD, PLEASE DO THEM. I WILL VALUE A VERY SMART ANALYTIC/LOGICAL RESPONSE AS MUCH AS I VALUE SOMETHING THAT IS CARDED WHEN THE WARRANT OF THE CARD IS NOT DEEPLY EXPLAINED. While I am tech > truth, I still need to hear the warrant behind the cards, and am receptive to the opposing teams calling out logical gaps in link chains. If you are reading a prepout on someone but cannot explain why your responses are true, I have a high propensity to drop your response, even if it might be dropped.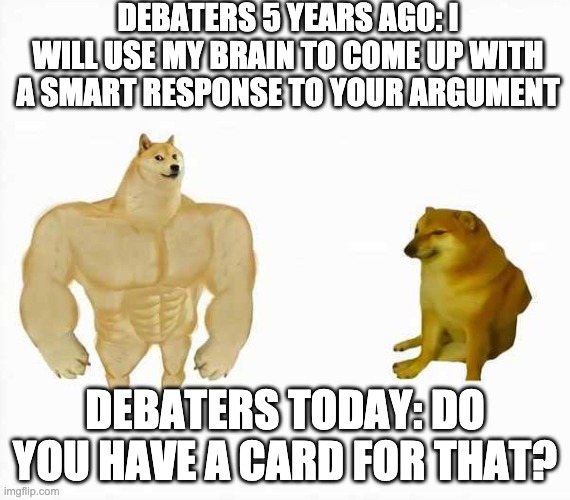 (stolen meme)
At a minimum, frontline turns in 2nd rebuttal, and please collapse early for cleaner rounds.
If I need to presume for some reason because there is literally nothing for me to vote on, I will presume to the 1st speaking team, not neg. If the reason isn't obvious, feel free to ask me why.
Ask me before the round about any other prefs or about APDA debate in college after round. If u want more feedback you can FB message me or just ask me after round.
Speaks - 3 ways to get a 30 from me:
1. Read a purely analytics rebuttal through FF. If you don't use cards and win, you certainly deserve it. I strongly encourage you to try this with me if you are confident, since I have a stronger propensity to pick up analytics than most TOC judges
2. If you win so hard on the flow you don't even need to do any weighing bc you are winning everything. If you think this is the case then just mention this part of the paradigm in ur speech and if ur right ill give 30.
3. win the round while using 0 prep time as a team - literally be ready to speak right after the preceding person (obviously does not apply if you used 0 prep then lost lol)
I will give speaks based on who debated the best, not who spoke the best. Basically whoever gave the round-winning analysis should be #1 always even if the other team spoke pretty
Last changed on Fri April 30, 2021 at 6:34 AM PST
I am a parent judge with a few years of experience.
Please speak slowly and explain all arguments. Be respectful and have fun.